The term "Elder Law" refers to a variety of legal services available to those over the age of sixty-five (65) depending on their individual needs. Ms. Heller only handles Estate Planning and Medicaid Planning. However, the term "Elder Law" can include the following: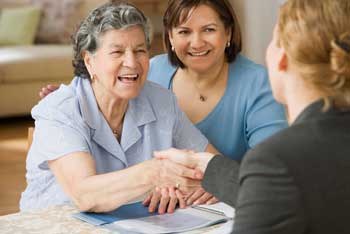 In addition to drafting normal Estate Planning documents, older clients needing long-term care may want to shelter their assets before applying for Medicaid. This is called "Medicaid Planning".
ESTATE PLANNING FOR OLDER CLIENTS:
Durable Powers of Attorney and Living Wills:
Everyone should have Durable Powers of Attorney and Living Wills to protect them in case of their incapacity. This is especially true for clients over the age of 65, merely due to their age. These documents need to be updated regularly to keep them from getting "stale", and to reflect changes in the law or the client's wishes.
A Power of Attorney is a document allowing the client to pre-determine who will handle their affairs for them during any period in which the client is incapacitated. A Power of Attorney becomes null and void upon the death of the Principal - the person who signed the Power of Attorney. Clients should have a Durable Power of Attorney for both Financial Decisions and Medical Decisions.
Many clients do not want to give someone else decision making authority while they are still competent. Therefore, a Power of Attorney can be either immediate or what is called "Springing", which means it does not "spring into effect" until the client becomes incapacitated.
All Powers of Attorney should state that they are "Durable", which means they will remain valid even after the client becomes incapacitated.
In addition, if the client does not wish to be kept alive by artificial means, then they should have a Living Will, also called an Advanced Medical Directive, which states just that. A Living Will does not come into effect in Colorado until the client is unable to make medical decisions for themselves, and two Doctors have certified that there is no reasonable chance of the client recovering from a life-threatening condition. Colorado revised its Living Will statute effective August 2010, and now allows people to make different provisions depending on whether they are in a coma or suffering a terminal illness.
MEDICAID PLANNING:
Medicaid is different from Medicare.
Medicare: Every person who pays into the Social Security system during their lifetime is "entitled" to Medicare benefits after age 65. Medicare pays for everyday medical care such as Doctors visits and Prescriptions, but does not pay for long-term nursing care.
Medicaid: The Medicaid program is a form of welfare and therefore the applicant must apply for the benefits and be almost totally indigent (out of money) in order to qualify.
Medicaid Planning is the process of planning for the qualification for Medicaid benefits to pay for long-term nursing care of persons over age 65.
The applicant is allowed to keep some assets and still obtain Medicaid benefits, but most of those assets are subject to being taken by the government after the applicant dies in order to reimburse the government for the cost of the applicant's care. This is called the Estate Recovery Act.
There are legal ways to become qualified for Medicaid benefits and still shelter some assets for other family members, such as Spouse or children. However, these techniques result in the applicant being unable to receive benefits for a certain period of time (called a "disqualification period"). Currently the disqualification period is 5 years after the shelter is made.
Therefore, it is important to get qualified legal advice before attempting to do any such sheltering of assets. And it is better to get that advice well before the client is out of money.
GUARDIANSHIPS/CONSERVATORSHIPS:
Due to the ever increasing complexities of these court proceedings, Ms. Heller no longer handles these matters, even if they are non-contested. Instead, she will refer such matters to an attorney who handles estate litigation.
A Guardian is someone who is appointed by the Court to make decisions for an incapacitated person regarding where they will reside, their medical treatment, and so forth.
A Conservator is someone who is appointed by the Court to handle the finances of an incapacitated person.
The need for a Guardian or Conservator usually arises because the client does not have valid Durable Powers of Attorney. Also, the need arises if the person acting as Agent under the client's Durable Power of Attorney is either taking advantage of the client, not providing proper care for the client, or misusing the client's funds.
ELDER ABUSE OR OTHER CONTESTED MATTERS:
Due to the complexities of these issues, Ms. Heller does not handle them, but will refer such matters to an attorney who handles estate litigation.